Frankie, is CASA's Facility Dog.  Facility Dogs's are different than therapy dogs.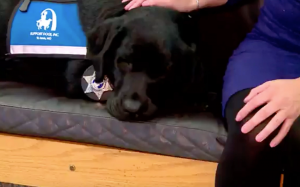 What is a Facility Dog?
Facility Dog means a dog that is a graduate of an assistance dog organization that is a member of Assistance Dogs International.  Facility Dogs works with a volunteer or professional who is trained by a program. The work of a facility dog can include visitations or professional therapy in one or more locations. Public access is permitted only when the dog and handler, who is a trained volunteer or professional, is directly working with a client with a disability.
—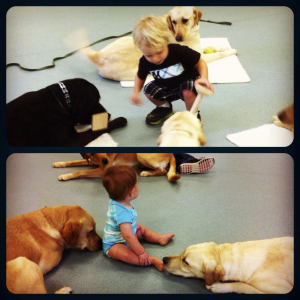 Why Does It Matter That Frankie is a Facility Dog?Integral to the professional training of facility dogs is their ability to remain calm and controlled around young children.  The public access test for facility dogs requires a child to approach a dog and pet it and for the dog to remain in a down position.
—Therapy Dogs International does not allow contact with children during the evaluation process.  Therapy Dogs International also does not require that a dog presenting for evaluation/registration to have taken any obedience or training classes.
How is a Facility Dog Trained?
—Intentionally Raised:  Breeder/Caretakers and Puppy Raisers are integral members of the team that prepares a facility dog for professional working life.  Breeder/caretakers provide strategic early life experiences to imprint the young and developing nervous system to be deeply bonded to humans.  Puppy raisers continue this intentional early life experience by socializing the puppy to a variety of animals, environments, and people.  Puppy raisers are responsible for teaching the puppy 30 commands in basic obedience.
Special Training: —At approximately the age of 18 months, puppy raisers bring their trained puppy to an organization that is a member of Assistance Dogs International where the young dog will undergo 6-9 months of daily training and observation/evaluation by a professional in animal behavior and dog training.  A facility dog graduates after they are determined to be of sound health and can pass a public access test which reflects their ability to be safe in a public setting.
—Handler Selection and Training: The other half of the equation that provides for the success of the facility dog in a professional environment is the selection and training of the handler.  In the definition of a facility dog provided by Assistance Dogs International, it states that the dog is handled by a trained volunteer or professional.  Organizations that are members of Assistance Dogs International provide specific training to handlers that they have carefully vetted and selected to receive one of their highly trained canines.
Where Do Facility Dogs Work?
—Rehabilitative Settings (Occupational Therapy, Physical Therapy, Speech Therapy)
—Counseling and Mental Health
—Educational Settings – At-risk student populations
—Legal/Courthouse Settings
—Law Enforcement Offices
—District Attorney's Offices
—Child Advocacy Centers
—Child Advocacy Organizations
Why didn't you use a local dog from Animal Rescue?
A Facility Dog is Purpose-Bred
—The DNA of a facility dog is specifically designed to produce a dog that is low-reactive in emotionally charged environments.  Facility dogs, therefore are bred for temperament.  It is estimated that up to 80% of a dog's demeanor can be attributed to its DNA and breeding.  There are vast DNA differences that occur between different breeds of dogs.  For example, a dog that is highly excitable or is known for aggressive tendencies, would be a poor match for facility dog work.
For more answers to your questions about Frankie and the work of Court Appointed Special Advocates, use the Contact Us form.